Brussels Map Circle event
1839: when Luxembourg was last cut to pieces
Brussels Map Circle Excursion
–


Arlon and Luxembourg City

,

Belgium and Luxembourg

Organisation:

The Brussels Map Circle

This is your chance to learn why Belgium has a province called Luxembourg, just like the Grand Duchy, and why the border between both territories runs where it runs …
A particular focus will be on the last partition in 1839, as a consequence of the 1830 Belgian rebellion.
For an introduction on the subject, read a preview of Caroline De Candt's article, which will be published in Maps in History No 61 of May 2018: The formation of the border between Belgium and Luxembourg in 1830-1839: a story about the importance of being a map lover .

Participation fee and registration
Due to the regulations in the visited places, the number of participants is strictly limited to 25. Participation is limited to our Members and their partner. Participation fees is EUR 35.00. This covers entrance costs to some collections and the guides. Booking for the dinner (advance payment) is EUR 30.00. If necessary the date of the transfer will depart participants. Please pay at IBAN BE52 0682 4754 2209 | BIC GKCCBEBB.
If you would like to join this guided tour please register here. Your registration will be acknowledge.

Under the academic guidance of:
David Colling, curator of the Musée Gaspar in Arlon
Jean-Claude Muller, linguist, Premier Conseiller de Gouvernement at the Ministère d'État, président of the Association de Généalogie et d'Héraldique, président of the Institut archéologique du Luxembourg, former head of the Bibliothèque nationale de Luxembourg;
Philippe Nilles, Conservateur at the Section moderne at the Archives nationales de Luxembourg;
François Reinert, historien, Conservateur délégué à la direction at the Musée Dräi Eechelen, Conservateur at the Cabinet des médailles et estampes of the Musée national d'histoire et d'art;
Michel Trigalet, historian, head of department at the State Archives of Belgium in Arlon;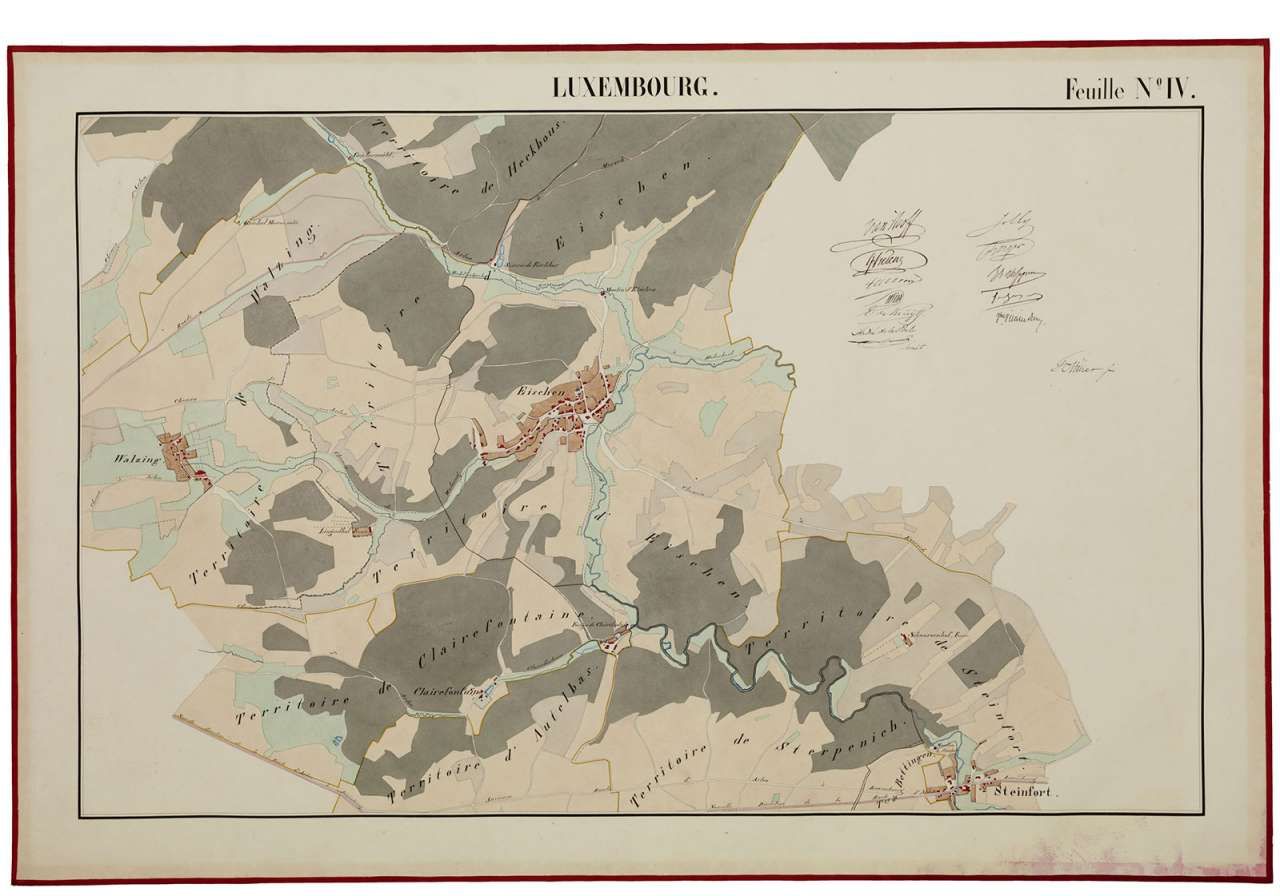 Time schedule
Saturday 26 May 2018

10.00 – 12.00: State Archives of Belgium in Arlon
12.00 – 14.30: From Arlon to Luxembourg incl. lunch
14.30 – 16.30: Archives Nationales de Luxembourg
16.30 – 18.00: Walk in Luxembourg
20.00: Dinner

Sunday 27 May 2018

10.00 – 12.00: Musée Dräi Eechelen in Luxembourg
12.00 – 14.30: From Luxembourg to Arlon incl. lunch
14.30 – 16.30: Musée Gaspar in Arlon, visit of the exhibition Arlon chef-lieu de province, un destin entre les deux Luxembourg
16.30: the End

Access by train - Examples of time schedule to Arlon as per 2018-02-07

| | | |
| --- | --- | --- |
| from | departure | arrival |
| Liège-Guillemins | 06.40 | 09.23 |
| Gent-Sint-Pieters | 05.39 | 09.23 |
| Bruxelles Luxembourg | 06.56 | 09.23 |
| Antwerpen Centraal | 05.40 | 09.23 |
Acces by car
by car from Brussels to Arlon (Archives de l'État): 185 km
by car from Arlon to Luxembourg: 33 km
Recommended hotels
Best Western Hotel Arlux*** in Arlon
Van Der Valk Luxembourg-Arlon*** in Arlon
Grand Hotel Cravat***** in Luxembourg
Hôtel Vauban in Luxembourg
Hôtel Français*** in Luxembourg
Luxembourg Youth Hostel in Luxembourg
Auberge du Domaine de La Gaichel*** in Gaichel / Eischen

Other recommended visits - In case you plan to spend a few hours around Luxembourg before or after our visit, we recommend:
Mudam Luxembourg, Musée d'Art Moderne Grand-Duc Jean
Lëtzebuerg City Museum
Mondorf-les-Bains
Musée archéologique d'Arlon

Various locations - All locations here on a map.


Venue:

Archives de l'État in Arlon, Parc des Expositions 9, 6700 Arlon
Archives Nationales de Luxembourg in Luxembourg, Plateau du Saint-Esprit, 1475 Luxembourg
Musée Dräi Eechelen in Luxembourg, 5 Park Dräi Eechelen, 1499 Luxembourg
Musée Gaspar in Arlon, rue des Martyrs 16, 6700 Arlon